Bananas Foster Cupcakes with a moist banana-flavored cupcake, a rich buttercream frosting, and a praline sauce drizzled on top are a delicious cupcake version of the classic New Orleans dessert. With mashed banana in the cupcake batter and frosting and banana slices in the praline sauce, this is a triple threat banana cupcake.
A box of Betty Crocker Super Moist Butter Pecan Cake Mix
 makes the cupcake batter a cinch to make. The buttercream frosting is flavored not just with banana, but dark rum and cinnamon. Yum! If the cupcakes weren't already delicious enough, a Praline Sauce from this Bananas Foster Cake really takes them over the top.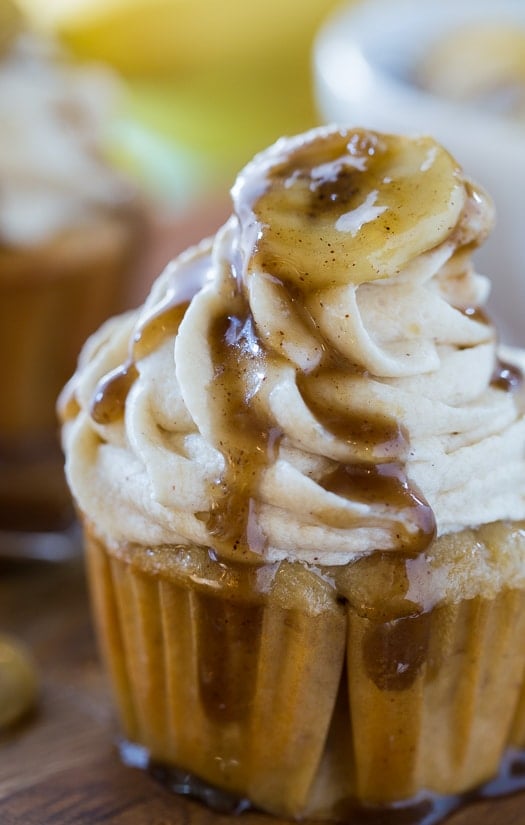 I don't know about you, but I constantly have browning bananas. I mean CONSTANTLY. You would think that bananas are my number one thing to buy at the grocery store. My favorite breakfast used to be a sliced banana, smeared with a little peanut butter, a dollop of Weight Watchers Amaretto Cheesecake Yogurt, and a sprinkling of Grape Nuts cereal.
But then Weight Watchers stopped making Amaretto Cheesecake Yogurt. I tried to find a suitable substitute for it. The closest thing I could find was a Boston Cream Pie flavor. It was OK, but not the same. So instead of eating this breakfast nearly every day, I gradually ate it less and less frequently and now I can't even remember the last time I ate it.
But I still buy bananas like I eat it every day. It's a habit I guess. And I'm constantly having to come up with ways to use them.
Hence Bananas Foster Cupcakes. Maybe not as healthy as my old banana breakfast, but definitely delicious!
Disclosure: Spicy Southern Kitchen is an amazon.com affiliate.
More Great Recipes for Using Up Bananas
Banana Pudding Cake
Bananas Foster Cake